Thoughts of a Mom
Newborn appointment - check. One month appointment - check. Vaccinations, vitamins, and all subsequent well-visits? Check, check, and check. Dentist appointment twice a year? Absolutely. I'm the type of mom that will schedule every single one of my kids' doctors' appointments months in advance and ensure that all prescriptions are filled immediately. When was the last time I had an annual exam, you ask? Well…honestly…probably before I had kids. 
As a mom, sometimes you forget to take care of yourself because you spend your time taking care of everyone else. Time is precious in the whirlwind of motherhood, and so is your health! During Breast Cancer Awareness Month, let's take time to learn about our bodies and ways in which we can take our health into our own hands and make proactive choices so we can continue to take care of others.
Depending on where you are in your stage of motherhood, you may be currently thinking (or have thought in the past), "is breastfeeding or pumping worth it? This takes a lot of time and effort daily."  Let's take a step back to think about how magical breastfeeding is not only for your baby (hello liquid gold!), but also for mama. Research has shown that breastfeeding has various health benefits for mom including but not limited to reducing the risk of obesity, cardiovascular disease, breast cancer and ovarian cancer. If this information doesn't add to the magical process of breastfeeding and the wonders of a woman's body, I don't know what does! But in reality, just because you breastfeed doesn't make you immune from breast cancer. So, you need to take steps to be proactive and protect your health and body. Keep reading on to learn some tips on performing a self-exam and a way to get a special code with Mamma's Liquid Love!
Why is it important to me?
"Every woman needs to know the facts. And the fact is, when it comes to breast cancer, every woman is at risk." (Debbie Wasserman Schultz)
One of my coworkers was diagnosed with breast cancer and had a double mastectomy. But how? Why her? As far as I know, she is physically fit, eats healthy, and is not even that old (she's in her mid 50's). Alarmingly, I found out that 1 in 8 women will be diagnosed with breast cancer in their lifetime. Looking around at the various groups in my life (work, friends, and family) that's a scary number of women that I personally have contact with that could be at risk for breast cancer.
In 2023, an estimated 297,790 women and 2,800 men will be diagnosed with invasive breast cancer. According to the American Cancer Society, when breast cancer is detected early, and is the localized stage, the 5-year relative survival rate is 99%. Early detection includes performing monthly self-exams and scheduling regular clinical breast exams and mammograms. As we know, every woman is different, and every family history is different. If you have a family history of breast cancer or have other risk factors, please speak with your health care provider about which screening options are right for you. As long as it takes you to read this post, dedicate that same amount of time to performing a breast self-exam. And then take an extra two minutes to call your doctor and discuss if a yearly screening mammogram is right for you. 
Self-exam
You know those rare five-minutes you have between putting your baby down for their nap and running to do the dishes? Take that time for yourself on a rainy Tuesday afternoon, lay down on the couch (no, it's not nap time for you), and perform a breast-self exam. According to the National Breast Cancer Foundation, Inc., 
How Should A Breast Self-Exam Be Performed?
In the Shower

With the pads/flats of your 3 middle fingers, check the entire breast and armpit area, pressing down with light, medium, and firm pressure. Check both breasts each month, feeling for any new lumps, thickenings, hardened knots, or any other breast changes.
2. In Front of a Mirror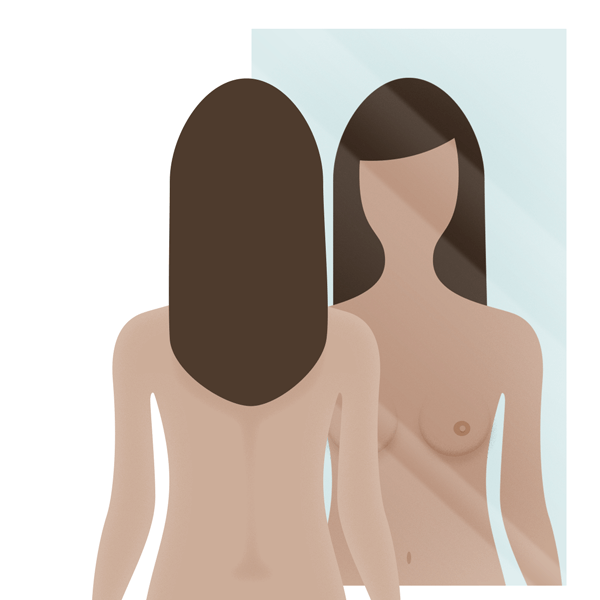 With your arms at your sides, visually inspect your breasts, looking for any changes in the contour or shape of the breasts, any dimpling, swelling, or other skin irregularities on or around the breasts, or any changes in the nipples.
Next, rest your palms on your hips and press firmly to flex your chest muscles. Look for any dimpling, puckering, or other changes, particularly on one side. Note that the left and right breasts will not exactly match—few women's breasts are perfectly symmetrical.
3. Lying Down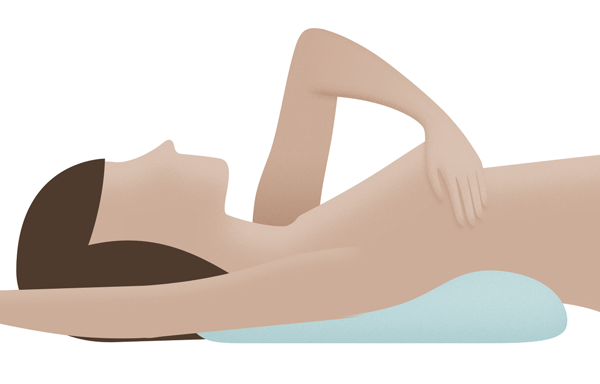 When lying down, the breast tissue spreads out evenly along the chest wall. Place a pillow under your right shoulder and put your right arm behind your head. Using your left hand, move the pads of your 3 middle fingers around your right breast, covering the entire breast area and armpit.
Use light, medium, and firm pressure to feel for any new lumps, thickenings, hardened knots, or any other breast changes. Also squeeze the nipple to check for discharge. Repeat these steps for your left breast.
Remember, all women are beautiful, and your breasts may be naturally asymmetrical; this may not be a cause for concern!
It's important to perform monthly exams, in the same position, around the same time each month. This will allow you to become familiar with your own body. Take note of any lumps, hard knots, swelling, changes in skin color, changes in size or shape of the breast, dimpling or puckering, pain, or tenderness. *Consult with a medical professional if you find any type of abnormality or if any other symptoms are present*
Keep in mind, if you are currently breastfeeding there may be many new lumps or recent changes to your breasts. This should not be an immediate cause for concern as you may be feeling your full mammary glands or milk ducts. It would be best to check with your healthcare provider regarding the best way to perform a self-exam during the time you're breastfeeding.
Check Yourself and then Treat Yourself!
As a woman owned and operated business, the team at Mamma's Liquid Love understands and cares deeply about things that impact women's lives, especially breast cancer. We want to keep spreading awareness and encourage you to get checked and ask questions to your health care provider! As an incentive, we are offering 10% off, site-wide, when you get checked between January 1, 2023 – December 31, 2023*. I personally like to do some online shopping while waiting in a doctor's office. So, while you're waiting for your screening, go ahead and choose the pieces you want to order once you receive your 10% off coupon code!
Terms and Conditions:

Proof of breast exam must be sent to

hello@mllkeepsakes.com

to redeem the coupon code.

This coupon is not valid on previous purchases, Item of the Week, Summer Blowout Deals, gift cards, custom orders, payment plans, or in conjunction with any other promotion.

Code must be applied at checkout. No adjustments will be made.

Offer ends December 31, 2023 11:59 PM EST.
Sources: 
https://www.nationalbreastcancer.org/breast-self-exam/
https://www.nationalbreastcancer.org/breast-cancer-facts/
https://www.komen.org/breast-cancer/risk-factor/not-breast-feeding/#:~:text=Mothers%20who%20breastfed%20for%20a,a%20total%20of%20one%20year


By: Dr. Nikki Elise Sharoupim